Diabetes is a chronic condition that affects millions of people worldwide. It occurs when the body cannot produce enough insulin or cannot use it effectively, leading to high blood sugar levels. If left untreated, diabetes can lead to serious health complications such as heart disease, nerve damage, and kidney failure. In this article, we'll explore the symptoms of diabetes, how to recognize them, and what you should do if you suspect you have the condition.
Common Symptoms of Diabetes
The symptoms of diabetes can vary depending on the type of diabetes and how advanced the condition is. However, some of the most common symptoms include:
Frequent urination
Increased thirst
Unexplained weight loss
Blurred vision
Fatigue or weakness
Slow healing sores or infections
Tingling or numbness in the hands or feet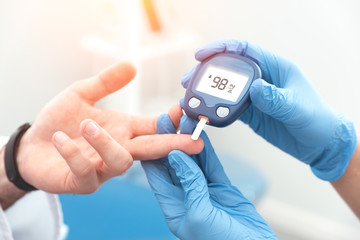 Source: Pixabay
Recognizing the Warning Signs
If you experience any of the symptoms listed above, it's important to take note and seek medical attention. However, some warning signs may be more subtle and require extra attention. These include:
Increased hunger: You may find yourself feeling hungry even after eating a full meal.
Changes in mood: Diabetes can affect your mental health, leading to irritability or mood swings.
Recurrent infections: People with diabetes are more prone to infections such as yeast infections, urinary tract infections, and skin infections.
Frequently Asked Questions
1. Who is at risk for developing diabetes?
While anyone can develop diabetes, some factors may increase your risk, including family history, obesity, and a sedentary lifestyle. People over the age of 45 are also at higher risk for type 2 diabetes.
2. How is diabetes diagnosed?
Diabetes can be diagnosed through blood tests that measure your blood sugar levels. Your doctor may also order a hemoglobin A1c test, which measures your average blood sugar levels over the past three months.
3. Can diabetes be prevented?
While there is no guaranteed way to prevent diabetes, making healthy lifestyle choices such as eating a balanced diet, exercising regularly, and maintaining a healthy weight can help reduce your risk.
In conclusion, recognizing the symptoms and warning signs of diabetes is crucial in preventing potential health complications. If you experience any of these symptoms, it's important to seek medical attention and get tested for diabetes. By working closely with your healthcare team, you can manage your condition and prevent future health issues.
TAGS: Diabetes, Blood Sugar Levels, Insulin